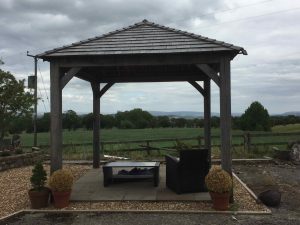 Last week we had a few days' break in the Forest of Bowland in Lancashire. The purpose of our trip was 'to come aside and rest awhile' (Mark 6:31), to spend time in prayer and rest and recuperation after quite a busy schedule. We scoured the internet to find a lovely venue, and were not disappointed on arrival at our accommodation.
For the following three mornings we sat under a pergola in the grounds overlooking beautiful hills and wooded slopes surrounding the property, and we enjoyed sweet fellowship with the Almighty, sensing His very special presence and peace.
On the second morning the brother-in-law of our host kindly brought us a blanket because the breeze was blowing, and as we talked with him we mentioned the wonderful views and the extraordinary peace we were experiencing. He asked us whether we had heard of the 'tetragrammaton' (i.e. the four Hebrew letters of the name of the Almighty: YHVH) and to our astonishment he went on to share that not only was he a believer in Yeshua, but that when he had built the pergola he had carved the letters Y (yod) H (hey) V (vav) H (hey) into the four wooden pillars holding up the roof!
So we were sitting beneath, and enclosed by, the name of the Almighty, YHVH!
No wonder we felt the presence of YHVH in that place! Out of all the bed and breakfasts, hotels and guesthouses in the area, our Heavenly Father had led us to the one place where His Name was carved, in the four pillars, and under whose name we had had such sweet communion with Him!
Psalm 91 v 1: He that dwelleth in the secret place of the most High shall abide under the shadow of the Almighty…
                  v 4: …He shall cover thee with his feathers, and under his wings shalt thou trust…
Proverbs 18 v 10: The name of YHVH is a strong tower: the righteous runneth into it, and is safe.